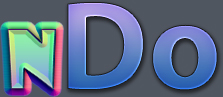 Created by Teddy Bergsman
teddy.bergsman@gmail.com
nDo OFFICIAL SITE UP
nDo now has an official site, head over to
www.cgted.com
to download it!
WHAT IS nDo?
Introducing a toolset for quickly designing normal maps without ever leaving Photoshop,
nDo
is a melting pot of normal creation techniques.
Sculpt using your custom brushes, create volumes from selections, paths or layers, apply filters, generate complexly multifaceted normal maps from height or photographs, rotate and transform without biasing normal
- nDo is designed to cover many of your normal mapping needs in a to-the-point format.
To download visit the official nDo site:
WHAT'S IN THE ACTION SET?
nDo © teddy
Play this action to launch
nDo
. For a good workflow, it is recommended that you tie this action to a quick-button – to do so, double click the action and set "Function Key" to the button of your choice (F2-F12).
Overlay Normal
Blends the selected normal map layer with the layer(s) below, in a mathematically correct manner without destroying Z channel data. To remove the blending properties, right click the layer and press "Clear layer styles".
Tip:
to amplify the blend, set a fill opacity value higher than 50% (default blending intensity). 100% results in a 2x intensified normal.
Cavity from Normal
Generates a cavity map layer on top of the selected normal map layer.
nDo TUTORIAL
Learn to use this handy tool to create normal maps fast.
Click the image to go to the tutorial.

HOW TO INSTALL
Simply extract the contents of the nDo.zip-file to a location of choice (default is C:\nDo).
Drag and drop the nDo.atn file to your Actions tab in Photoshop.

The action is linked to the default folder "C:\nDo", you can change this easily by doing the following steps:
If you extract the files to "C:\nDo" you do NOT need to go through the following steps!
1. Remove the current "Script" tab (drag and drop it to the trashcan icon or click the menu tab and choose "Delete").
2. Hit the "Begin Recording" button.
3. Goto File > Scripts > Browse and browse to the location you choose to extract nDo.zip to.
4. Do not forget to click the "Stop Playing/Recording" button when you have loaded the script and you are done!